SANTA ANA VALLEY
Class Of 1962
In Memory
Gary Buzzard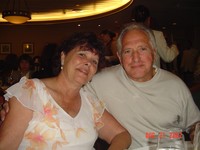 Gary passed away October 2, 2010 in McMinnville, Oregon. He is survived by his wife, Joan and their three children. This photo was taken on board the 4 day cruise that immediately followed our 45th Class Reunion in 2007.
Update August 23, 2012: I received an email from Joan Buzzard with additional information for Gary's remembrance:
"If you would like to add a little more In Memory here goes. Gary was a hard worker who had many trades including his own log truck and construction business. He retired in 2007 at age 62. This gave him time to work on his cars and travel and garden. He has two sons, Allen, who is a middle school teacher; Mark a crane operator, and daughter, Brenda an interior designer. Also 5 grandchildren and 2 step-grandkids. He is greatly missed, but we are thankful for the years we had. Sincerely, Joan".