SANTA ANA VALLEY
Class Of 1962
In Memory
Robert J. Campbell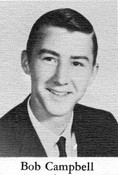 I phoned Bob while planning our 45th Reunion, and the person who answered asked, "Bob senior or junior?"
Bob's son told me his dad had passed away. So sorry I didn't get information at that time about Bob's life after high school, intending to call back, and when I did call the number had been disconnected.
Bob was a wonderful guy! We shared a lot of classes and many fond memories from Lathrop Junior High School days. He was always joking around, could always make me smile no matter what! He had so many friends and a beautiful smile so bright it would light up any classroom. I can't remember Bob ever not smiling!!
Your friend forever,
Lynda Goff